Technical Specifications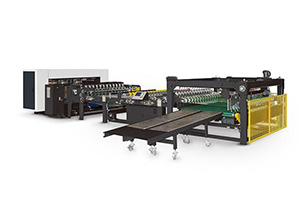 NCM-18D Fully-auto Single-corrugated Cutter, Slitter & Stacker
Work width: 1800mm-2200mm
Max. stacking height: 250mm
Max. sheet length: 1600mm
Max. design speed: 180m/min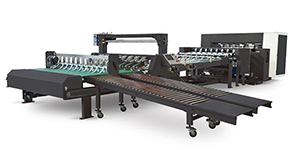 NCM-15B Fully-auto Single-corrugated Cutter, Slitter & Stacker
Work width: 1800mm-2200mm
Max. stacking height: 250mm.
Max. sheet length: 1600mm
Max. design speed: 150m/min.
The fully automatic single face corrugated sheet cutter is capable of storing nearly a thousand orders in order to achieve both manual and automatic changes without stopping the machine.
The imported high quality industrial computer and high capability programmable controller are both used on the upper/lower computerized control system, with a 15 inch LCD screen as the primary screen. Machine halting, speed adjustment and subsection power are all controlled with the touch of a button.
The thin tungsten steel alloy blade used features a sharp edge and can cut more than 8 million meters during its service life.
The machine also features computer control for auto or manual blade grinding to be carried out under slitting for high production efficiency.
The cross cutting component uses an AC servo motor drive.
The paper output area consists of 4 sections: the first collects single layer sheets and moves them quickly and neatly after the crosscutting process. The second area stacks cardboard into tile shapes, and the third and fourth sections move the cardboard to the stacking area.
The stacking component features gantry type electric lifting. The design of the stationary paper transmission rack ensures stacked cardboard remains neat.
The machine can achieve automatic counting and stacking without needing to stop. The work of a single round of counting the cardboard is completed through the use of a photoelectric switch and cooperative work of each conveyance segment, as well as a PLC controlled stacking.