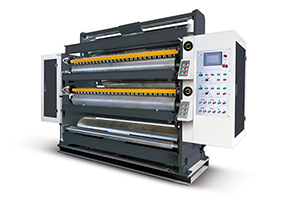 Technical Specifications
PM-D Pasting Machine
Work width: 1400mm-2800mm
Max. design speed: 250m/min.
Each layer of the numerical control corrugated cardboard pasting machine features a variable-frequency driver for independent operation with stable speed adjustment and excellent synchronization. The synchronous belt drives steadily without vibration and the surface of the gluing roller plate ensuring equal distribution.
A glue cycling system is installed in order to prevent glue form depositing on components and causing jams. The auto-cycle glue feeding, electro motion adjusted gluing width, automatic speed tracking, and glue content adjustment are all designed to maximize production line speed and effectiveness.
Pressure type: touch-bar
The pre-heating system increases glue gelation with firm binding effects at high speeds. The equipment features PLC control, which connects with product management systems. The system is treated with a diamond knurling process and hard chrome treatment.